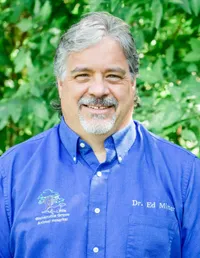 Dr. Edward Miner ~ Owner:
Dr. Miner is a graduate of Cornell University's College of Veterinary Medicine. He enjoys all aspects of veterinary medicine but especially likes surgery and providing clients with the latest information to make the best decisions for the health of their animals. He grew up on a dairy farm in rural upstate New York. He moved with his family (wife, Aileen, and three children, Carolyn, Phillip, and Sarah) to Chicagoland in 2006 to join Aaron and Nancy in the construction of Warrenville Grove Animal Hospital. The Miner family is involved in supporting several projects overseas (Romania, Ukraine, Haiti, Guatemala, and Ecuador) that help underprivileged or abandoned children.
---
Dr. Steve Borowiak:
Dr. Borowiak ("Dr. B") has been caring for animals in the Wheaton/Warrenville community since he received his veterinary degree from the University of Illinois in 1983. While he enjoys all aspects of veterinary medicine, he is especially interested in dentistry/oral healthcare and soft tissue surgery. Dr B. also has years of experience working with exotic animals; such as guinea pigs, birds,and snakes.
In addition to caring for a countless number of patients over the years, Dr. B has served on several medical advisory boards (including the Chicago Veterinary Medical Association) and has done volunteer veterinary work in Mexico and Guatemala.
During his free time, Dr. B enjoys spending time with his son Rony. Their favorite activities include gardening, raising goats, and caring for their flock of backyard chickens. In addition, they love to travel and have set a goal to visit as many national parks as possible. To meet this goal, they make sure that each vacation includes at least one national park.
---
Dr. Lindsay Andsager:
Dr. Lindsay grew up in Naperville, IL, and is very excited to be moving back to the area! She attended Yale University for her undergraduate studies, where she majored in biology and competed on the uneven bars for Yale's gymnastics team. Next, she received her doctorate in veterinary medicine from the University of Illinois. After graduating in 2017, she practiced for a year in small animal private practice in Downers Grove, IL before heading up to Woodstock, IL for 3 years to work in a unique small animal practice with a focus on reproduction, surgery and emergency care. Her areas of special interest include oncology, ER medicine, and surgery (including cesarean sections to deliver puppies!).
Her passion for animals began as a little girl, playing with stuffed animals and begging her parents for a variety of pets. In high school and college, Dr. Lindsay was fortunate to go on numerous mission trips with her church, where she learned of her deep love for helping people in need. Veterinary medicine is perfect way for Dr. Lindsay to combine her passion for helping both people and animals.
When Dr. Lindsay isn't working, she enjoys working out, traveling to visit family and friends, and spending time with her pets. She has two collie dogs (Berkeley & Juni), three cats (ragdoll Miel, Himalayan Mookie, and gray kitty Grayce) and a beta fish.

---
Dr. Sarah Morlock:
Dr. Sarah Morlock was born and raised in Casper, Wyoming; but has lived in the Chicagoland area for the last 21 years. Dr. Sarah attended Pacific Lutheran University for her undergraduate studies, where she earned her B.S. in Biology. She received her Doctor of Veterinary Medicine degree from Washington State University. After graduating in 2000, Dr. Sarah moved to the Midwest, and has worked in various practices in the Chicago suburbs. Her special interests include feline medicine and internal medicine.
When not practicing veterinary medicine, Dr. Sarah stays busy with her 2 young sons, her husband Scott; and her three rescued Siamese cats Calypso, Jazz, and Sunny. The family loves to travel, especially to the National Parks; and hopes to take more vacations overseas once the kids are older. Dr. Sarah is a long time member of the hand-bell and sanctuary choirs at her church. She enjoys playing the piano and gardening in her spare time.
---
TEAM MEMBERS:

Aileen ~
Member Since 2008

Amber ~
Member Since 2013

Denise ~ Member Since 2007
Denise has been with us from the start
making her WGAH's 1st employee!
Erica ~
Member Since 2010
Gail ~
Member Since 2019
Julie ~
Member Since 2017
Kaye ~
Member Since 2021
Kim ~
Member Since 2021
Marybeth ~
Member Since 2022
Rachel ~
Member Since 2016
Tracy ~
Member Since 2015